1965 Yamaha YDS-3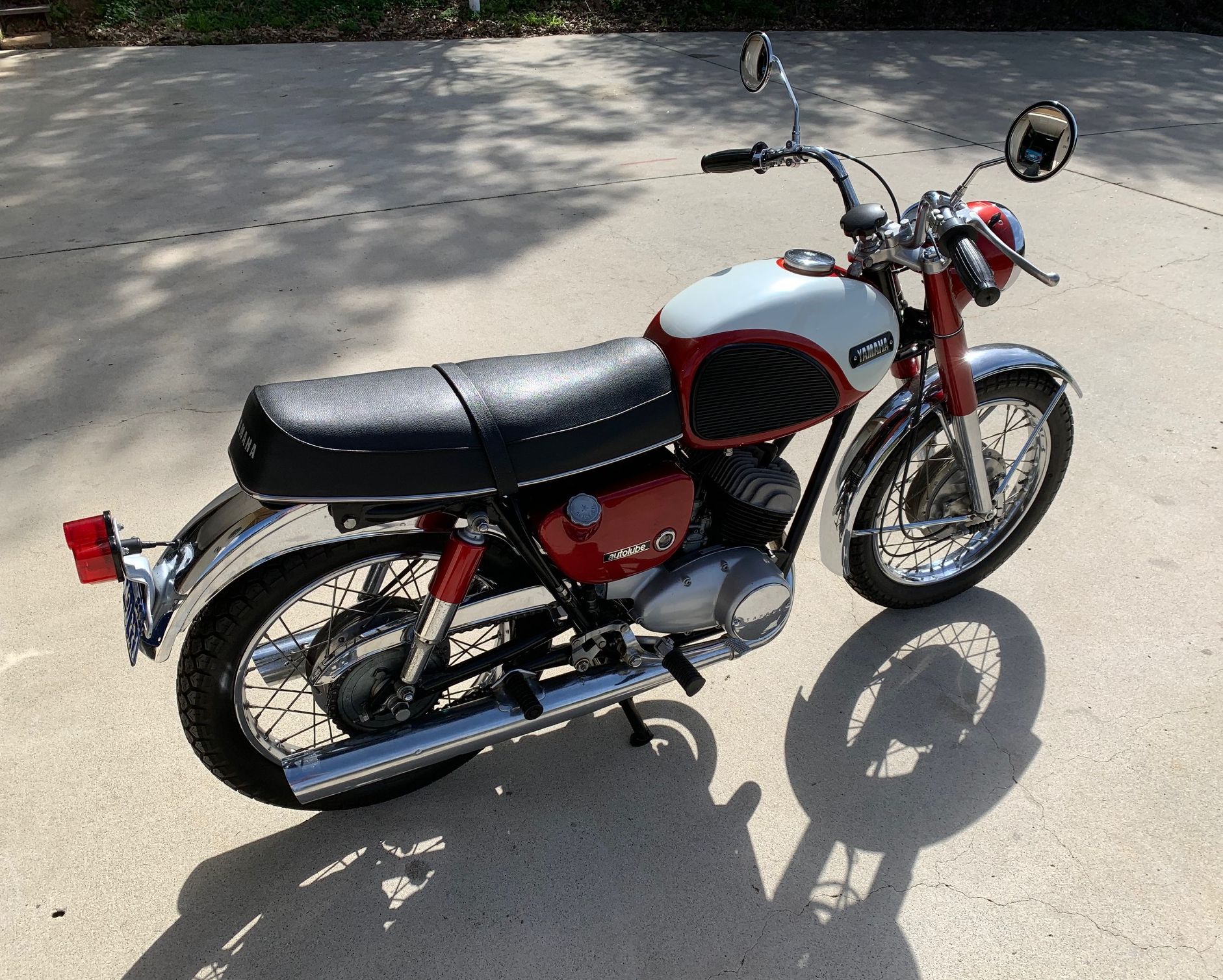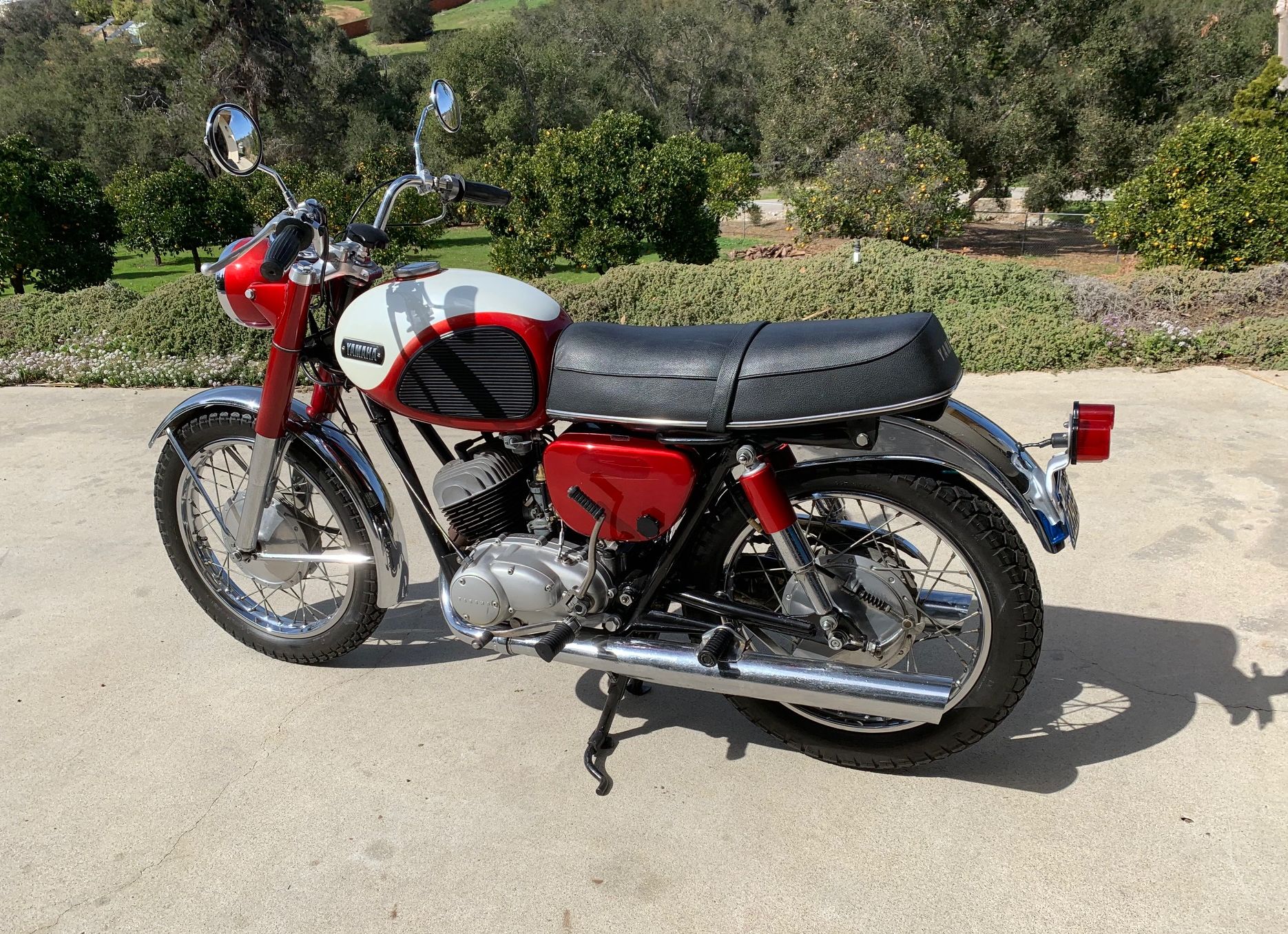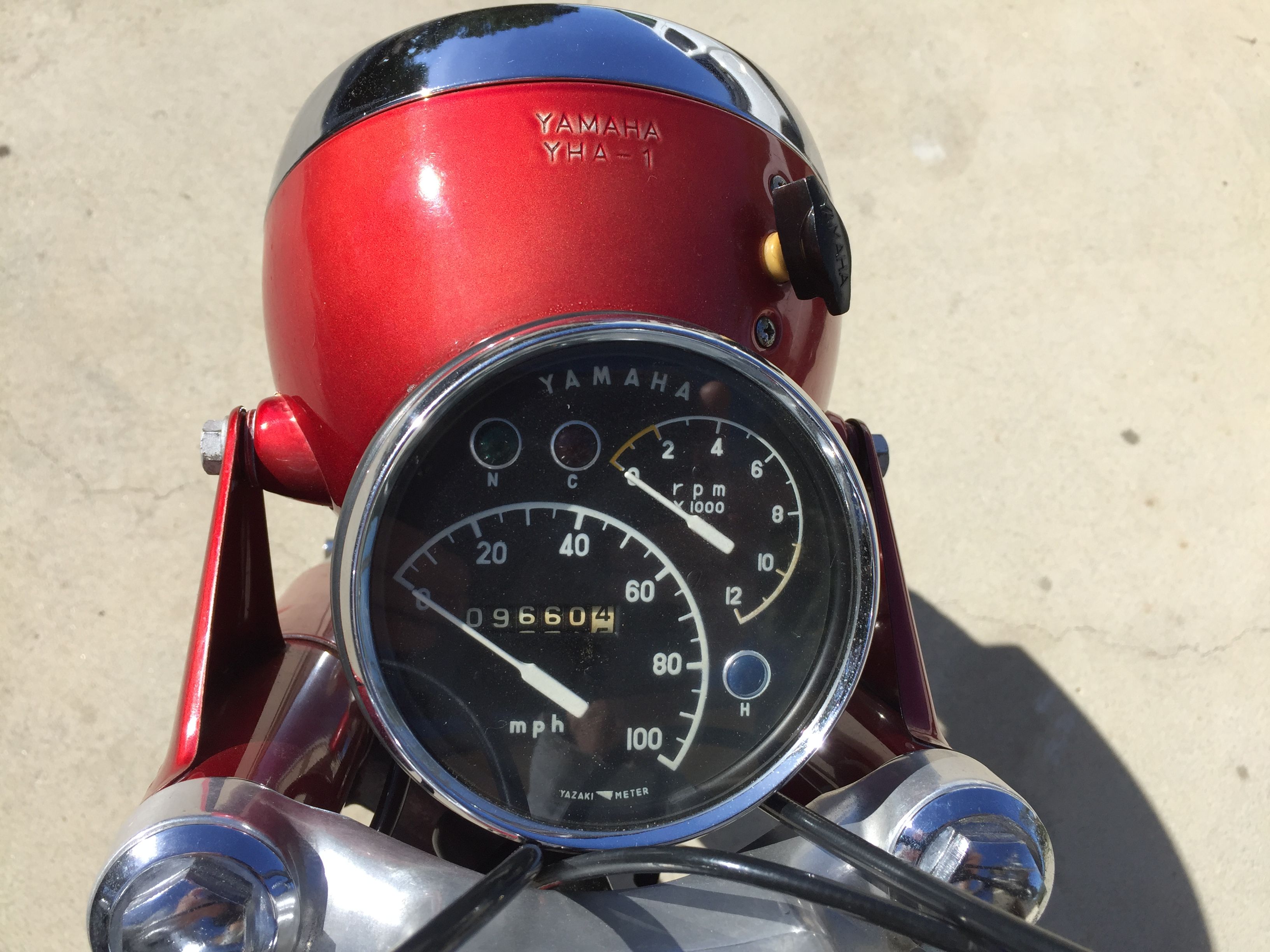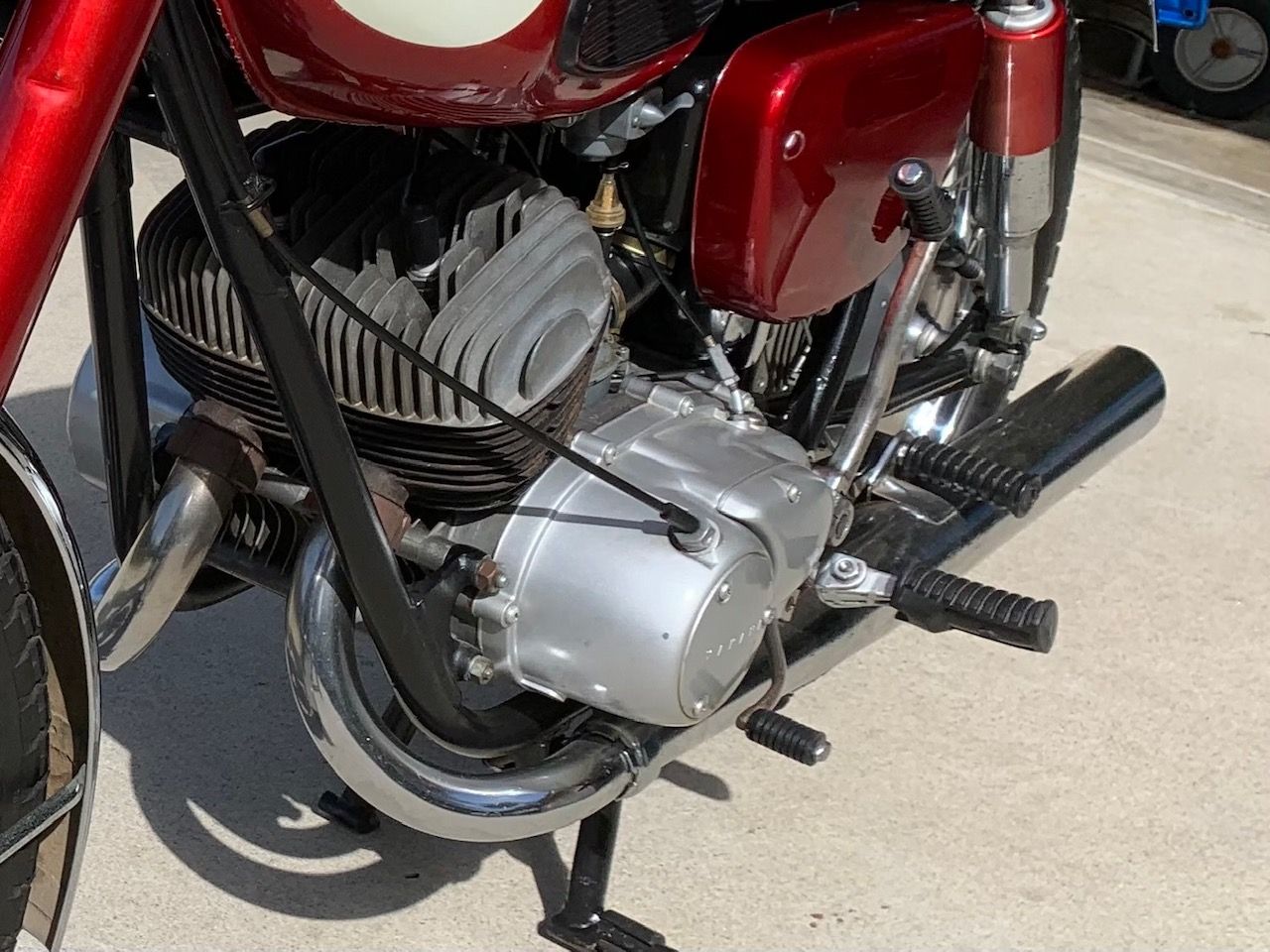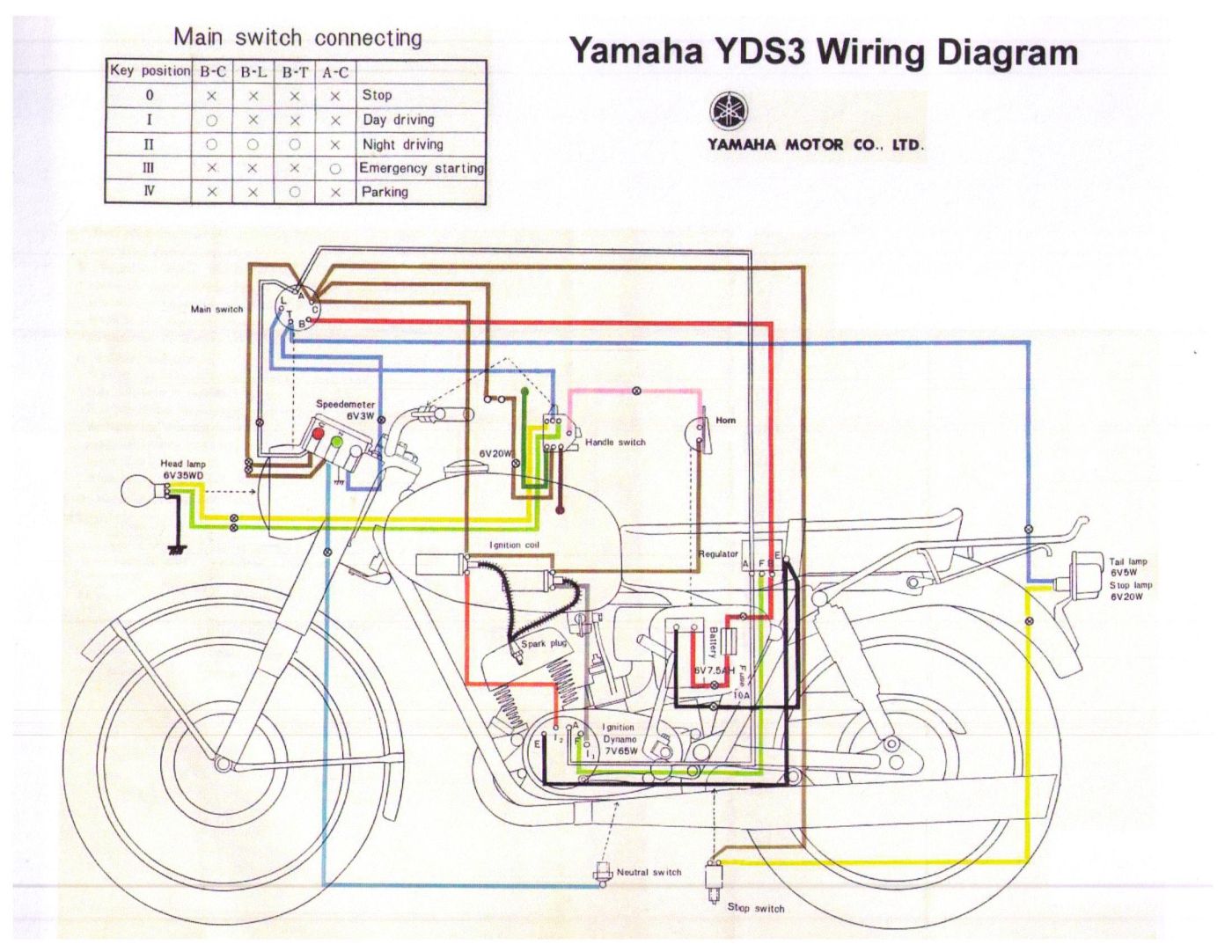 Video clip with motor running

The 1964-1966 Yamaha 2-stroke twins..



The YDS-3C scrambler or "Big Bear" version shown on this

brochure has the white stripe seat and side panel tank paint scheme of 1966 as well high mounted

exhaust, steering dampner, skid plate, larger rear sprocket, suspension tweaks, late style front and bobbed rear fender. For the added capabilities, Yamaha list price was $690 - $30 more than the street bike.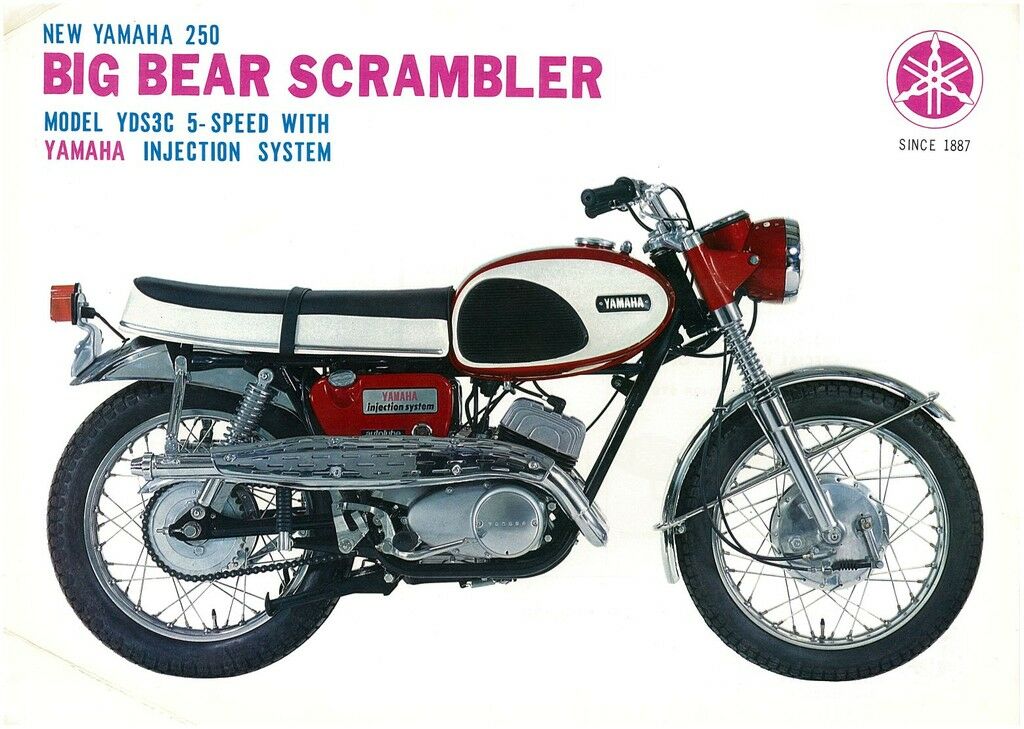 A previous (1964 or early 1965) example of the 250cc Catalina shown on this sales brochure is equipped
with the original style spring seat & front fender, with the round Yamaha "tuning forks" tank badge.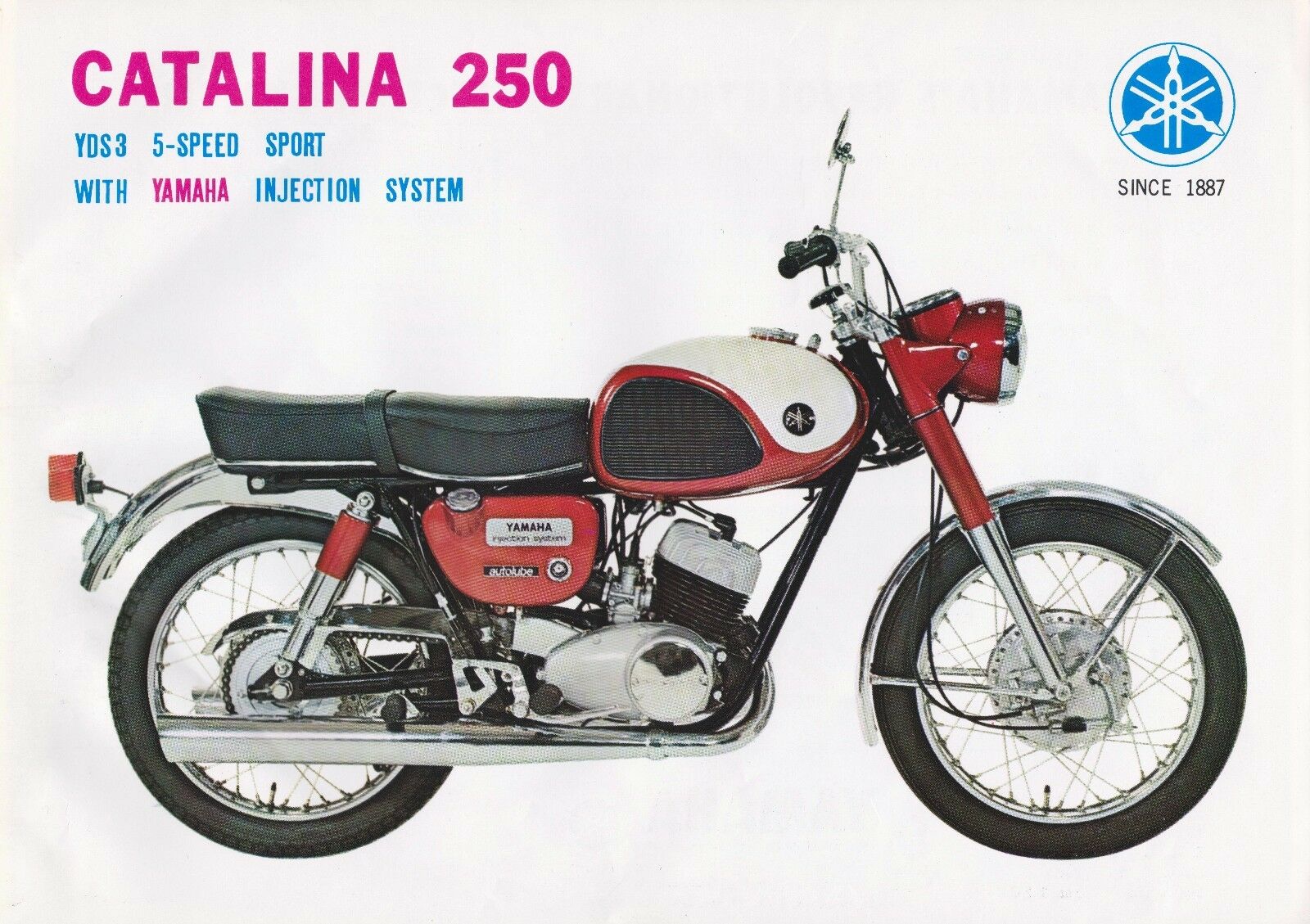 A third (and rare) model using the 250cc motor was the TD1 series. This was a factory built cafe racer, based on the production bike to meet class rules. It was ready-to-run straight out of the crate and cost about $1200 new, almost double the price of a YDS-3.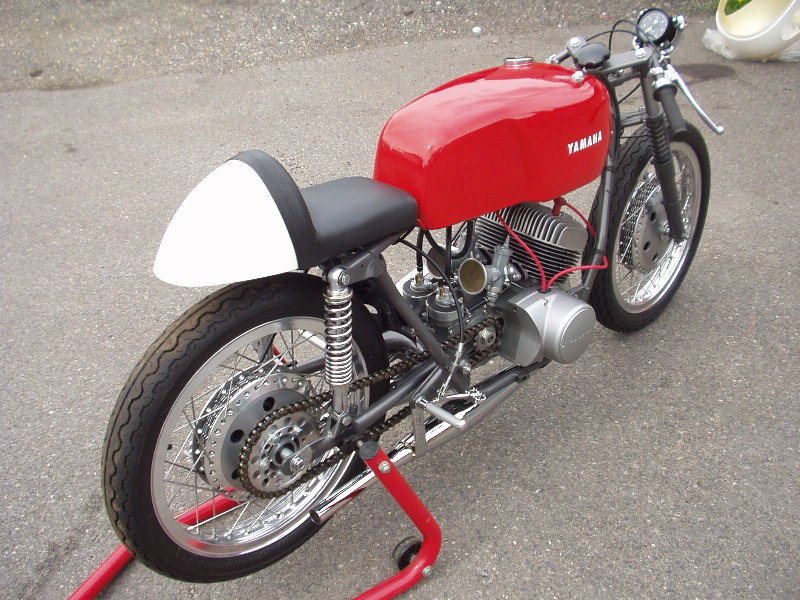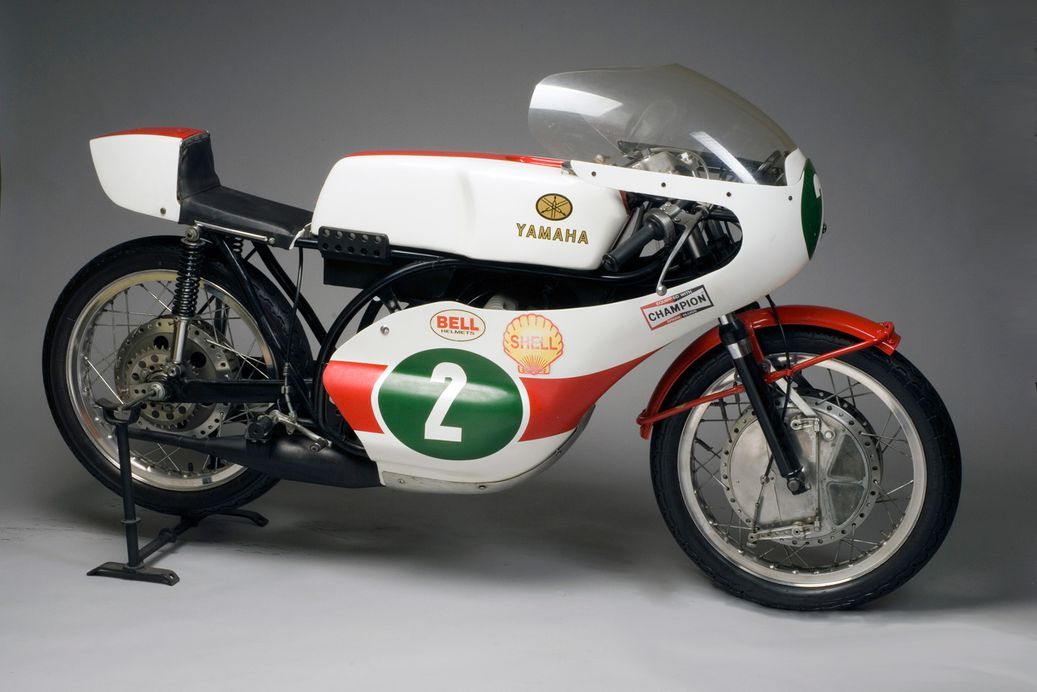 Nearly identical in appearance to a YDS-3 except for a "305" badge on the left side cover, the 305cc YM-1 was introduced in 1965. Priced at $690.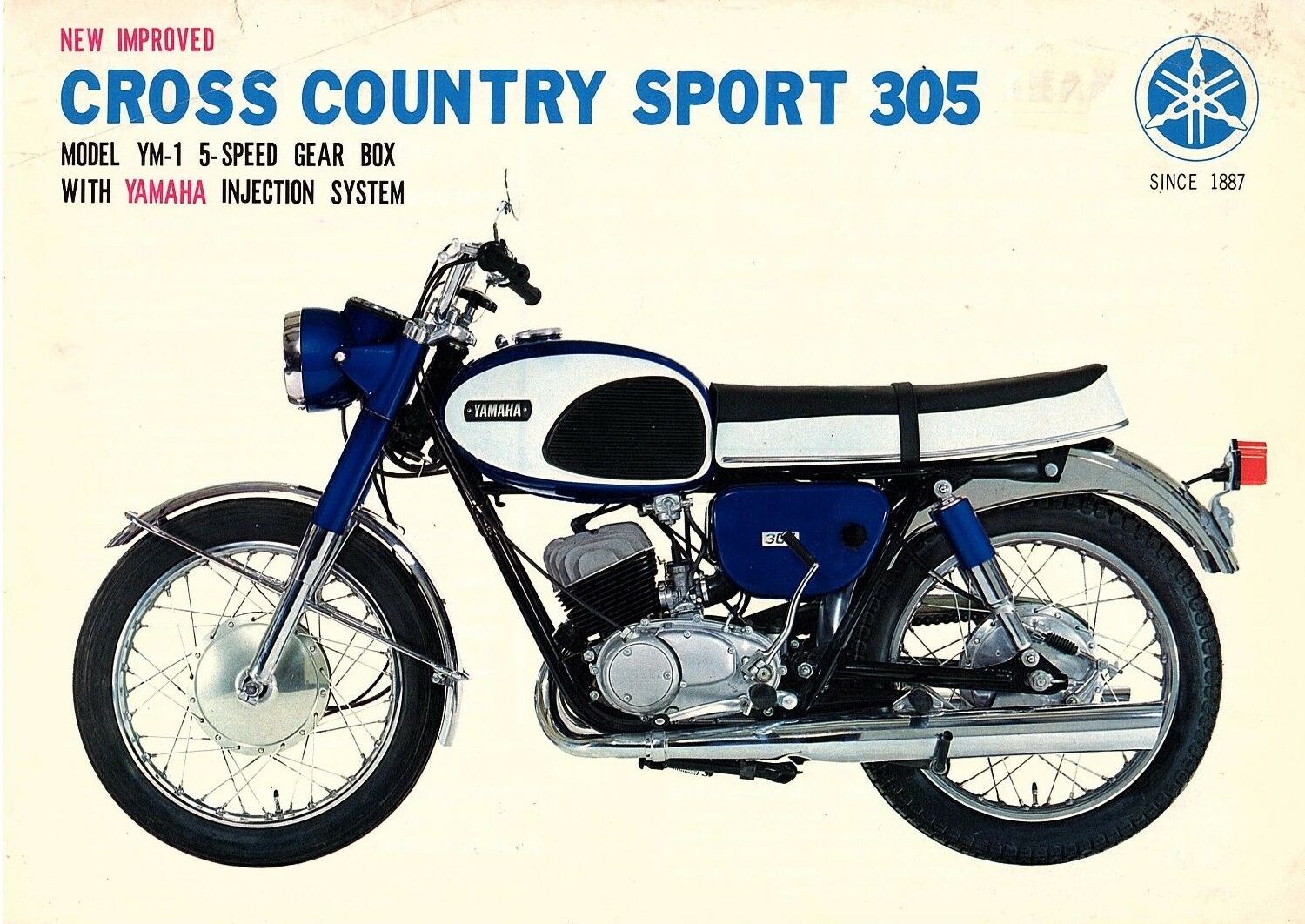 The "Twin Jet" 100cc was introduced in 1966 and featured dual carbs and the Autolube system in a pressed steel frame. List price was just over $400.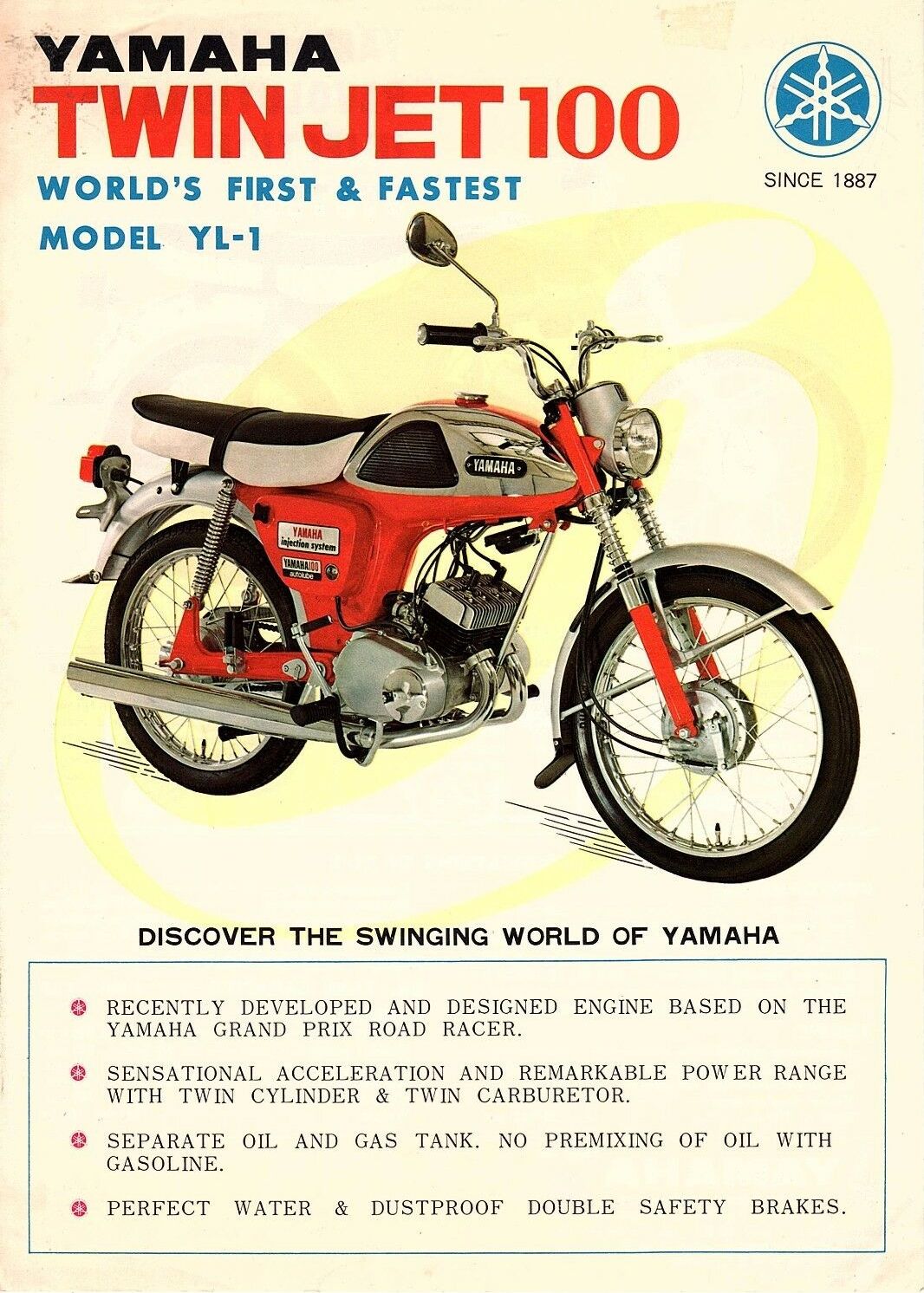 _____________________________________________________
Short History of this 1965 Yamaha
Model: YDS-3 Catalina
Engine: 246cc 2-stroke twin
Color: Yamaha Candy Red & Pearl White
Mileage: 9660
This motorcycle was purchased new in the summer of 1965 from Borden Motor Company in South Bend, Indiana. Ned Borden had just become a Yamaha dealer and my father, a machinery dealer, had acquired a small electric fork lift as part of a package deal from a liquidation auction.
Borden was also selling used cars and his office/workshop was a former gas station. There was little floor space, but plenty of ceiling height and Borden needed a way to stack crates of incoming bikes. Somehow without eBay or Craigslist, a connection was made. Borden got the forklift he needed and I rode a new bike home. The list price at the time was about $660.
I rode the bike for the next two years commuting to classes in Bloomington, Indiana. In August of 1967 through March of 1969 it performed the same duty in Kalamazoo, Michigan, weather permitting. During three years of active military service overseas it was rarely ridden, and the short riding season in the upper Midwest had always kept the mileage down. In the summer of 1974, I bought a small motorcycle trailer and brought the bike to southern California, where I had relocated in 1972.
I kept the Yamaha licensed and on the road through the mid 80's when a leaky fuel petcock and a broken front brake cable gave me more reason (in addition to California traffic & drivers) to shut it down. There was usually garage space to store it in one piece, but in the early 90's I decided to take it apart. I drained the fluids, cleaned, packaged, and boxed everything except the big pieces, which were stored under the workbench in my garage for nearly 25 years. Throughout that time period, I thought a total restoration was the logical next step.
But by 2017, patina had become acceptable (and even desirable) in vehicles of all kinds and I reassembled the bike. This YDS-3 has plenty of patina and is nearly all original, except tires, some cables, seat foam, grips, foot pegs, shift, & kick rubbers have been replaced. The engine has never been rebuilt, but starts easily and runs. The forks have new seals and the suspension & brakes work well. Ignition, fuel, exhaust, lighting, horn, indicator lights, tach and speedo function. I have not yet reconnected the Autolube system but run a 20:1 mix, per the manual.
Yamaha did not issue YDS-3 series VINs indicating year of manufacture. The D9-XXXXX Motor and Y23-XXXXX frames were manufactured from 1964 through 1966. This example was assembled in the last 300 of 1965 models, as indicated by the serial production number. Stock color combinations were: red/white, blue/white, and black/silver.
Several YDS-3 details evolved during the production run and this bike has the early style front fender, all-black late style seat, and late style ribbed rubber on kick, shifter, & foot pegs. The tank has "YAMAHA" badges with the original scallop paint scheme.